Saturday, October 21, 2017
Lyin' Johnnie, hypocrite extraordinaire
I won't dignify Trump apologist John Kelly with his military title because his shameful smear of Congresswoman Frederica Wilson offended the hell out me. As far as I'm concerned, his disgusting performance erases any previous honors he earned. Henceforward, I'll call that lying bastard "Johnnie" or "Jonnikins."
First:
Johnnie's charactization of Frederica Wilson's speech in 2015 was a complete fabrication, as
the video evidence proves
. Jonnikins said that Wilson spent her time congratulating herself for something she did not actually do, and that she immediately sat down and left everyone appalled. The video proves -- conclusively, without any room for interpretation -- that Johnnie told a deliberate lie.
Did Jonnikins feel free to lie about Wilson because she is female? Becase she is black? Or because she is a Democrat?
Perhaps he has simply become part of the Trumpist culture of lying. Perhaps he inhabits an Alt Right fantasy world in which the past you
prefer
becomes the past you
remember
. (That sort of thing is precisely what the Nazis meant by the phrase
triumph of the Will
.)
I don't know Johnnie's motive for lying. All I know is that he did in fact lie, and that nothing he says henceforward will ever be trustworthy.
Second:
Jonnikins maintains that Congresswoman Wilson committed some sort of affront when she listened in to Trump's speakerphone "condolence call" to the family of Sgt. La David Johnson. The call came in while they were en route to a memorial service. The family had a right to invite whomever they pleased to ride with them, and it's not as though they could have asked the president to call back later. Congresswoman Wilson is a longtime friend of the family (the friendship began well before she entered politics) and there is no earthly reason why she should
not
have been invited along.
The family is not saying that Wilson did anything wrong. They
agree
with her.
Third:
Jonnikins himself was listening in (on Trump's end) without the family's knowledge
. Johnnie, you're a damned hypocrite.
Fourth:
Johnnie made a plea for the country to show respect for Gold Star families. Really? Tell me, Jonnikins: Why didn't you say one word against Trump's pal Roger Stone when Stone was spreading vicious falsehoods and conspiracy theories about Khizr Khan, the father of slain hero Humayun Khan?
When are you going to lambaste Roger, Jonnikins? Answer
that
, you damned hypocrite.
Fifth:
Johnnie said that the sacredness of the Gold Star families ended during "the convention over the summer." Whose fault was
that
? Note that Johnnie's smarmy wording was cleverly designed to re-arrange the truth and to replace the actual past with a fantasized past. (The "triumph of the Will" theme reappears.) In reality, the Democrats treated the Khan family with respect bordering on reverence. It was Trump and his partners in paranoia who responded with lies, smears, character assassination and absurd conspiracy theories.
Johnnikins, you no longer have any honor. History will hate you. You cannot escape history.
Do you want to regain your honor, Johnnikins? Do you want historians to speak well of you? Do you want to regain a
moral
(not just legal) right to the title of
General
Kelly? Here's what you have to do:
1.
Apologize
.
2. Quit.
3. Tell everything you know about the Trump White House -- all the damning details.
4. If the Russians have something on you, take your lumps like a man.
Do those four things and you will once again be hailed as a hero. Until then, you're just Lyin' Johnnie, hypocrite extraordinaire.
PS:
Yes, I'll go there: Johnnie, your son would be ashamed of you. If I were a member of your family, I'd spit in your lying face. You're a liar and a hypocrite, and your stars cannot protect you from the truth.
PPS:
Sarah Hucakbee Sanders said that one must never criticize a general. Didn't Trump say that he "knew better" than the generals?
Hasn't he often issued tweets critical of generals?
Permalink
Friday, October 20, 2017
Obama criticizes Trump. By what right?
Today, Barack Obama and George W. Bush both offered criticisms of Trumpism without actually naming Trump. In both cases, the criticisms are well-founded. Yet in both cases, I must ask: Do these former presidents have the
right
to say what they say?
In this post, I'm going to concentrate on
Obama
:
"But here's one thing I know: if you have to win a campaign by dividing people, you're not going to be able to govern them. You won't be able to unite them later if that's how you start."
But that's how
you
started, Mr. Obama. I will never forget and never forgive what you did to Hillary in 2008.
Trump won using the Obama playbook. Bots and paid trolls commandeered the comments sections of every website, making it impossible for Hillary supporters to speak up online. Whenever anyone said one word in defense of Hillary, the pile-on was brutal. Obama forces relied on the incessant use of conspiracy theories: How many times, in that period, did liberal sites publish phrases like "the Bush-Clinton crime family" and "Vince Foster! Vince Foster! Vince Foster!"? Keith Olbermann, to his later regret, openly called for Hillary Clinton's murder
on the air
.
In 2008, anyone who offered even the mildest critique of Obama's tactics became the target of weird accusations and absurd conspiracy theories. In that topsy-turvy year, progressives decided that Paul Krugman (who offered a cautious critique of the Obama campaign) was a worse-than-Cheney ultra-conservative monster, while Arianna Huffington, Andrew Sullivan and Markos Moulitsas were all hailed as lifelong lefties. History and common sense were turned upside-down. It was insanity.
The Daily Kos printed an incessant stream of viciously sexist insults, paranoid accusations and outright lies. Here's just the smallest sample of the kind of bullshit flung at our eyeballs every second of every minute of every hour of every day during the 2008 primary campaign:
Just slit her throat, lock her in a car boot, and drive the car into river in West Virginia. Ain't gonna let no whore screw with the man

The heinous Hillary hag with a bullseye on her forehead is reason enough to vote for Obama

And a Drive-By Won't Be Out of the Question. What goes around, comes around. The stupid fucking bitch !!

Talk About WHITE TRASH that bitch better keep looking over her shoulder.

The Vince Foster Issue Should Be Investigated Again. Clintons just showed that their ambitions know no limit.

The Clinton death list The following is a partial list of deaths of persons connected to President Clinton during his tenure as Governor of Arkansas and/or while President of the United States and thereafter. Read the list and judge for yourself...
That, times a
billion
, is what we got without surcease on Huffpo, Kos, TPM and DU --
progressive
sites. The Obot attacks were every bit as brutal as anything that happened in 2016. Do you remember those insulting dolls of Hillary in dominatrix costume? If you think that they were created for the right-wing market, you're kidding yourself. The sexism displayed on "liberal" sites throughout 2008 was far more blatant and unashamed than is the racism seen on Brietbart -- or, hell, even Stormfront.
Speaking of racism: Remember
the darkened video smear
leveled against Hillary -- a smear which was every bit as scurrilous and ginned-up as the email pseudoscandal? When I pointed out the absurdity of this charge, I was called a racist -- even though no-one could mount a technical counter-argument.
Obama won because he gamed the caucuses and flagrantly lied about a number of issues, not least among them being
his alleged opposition to NAFTA
. The Obots screamed "RACIST!" at anyone who dared to mention that Obama lied about his ties to Tony Rezko, at anyone who dared to point out that Obama often received money from the same shady sources who "donated" to Blagojevich, at anyone who dared to question St. Barack in any way.
I have often voted for black candidates, from Tom Bradley to Jesse Jackson -- in fact, I had favored Obama himself before I learned about his penchant for lying and graft. Nevertheless, I was called
racist racist racist
every day. I was reminded of a French police siren:
RAY-cist RAY-cist RAY-cist RAY-cist
. Eventually, one learns to tune out the sound. (You
really
don't want to live in a country where that alarm is heard so often one learns to tune it out.)
In fact, the "people" sounding those sirens were really bots. On this humble blog, the hate messages came in every damned hour of every damned day. We're talking about literally
hundreds
of pieces of hate mail every day, including outright death threats --
and most of them emanated from one IP address in Chicago
.
Whenever I looked at the stats in the morning, I would smile and say "Mr. CHIGILL has been at it again;" CHIGILL (Chicago, Illinois) was how my IP tracker identified that address. It seemed bizarre for a C-level blog like mine to attract such attention. I later heard from bloggers with much smaller audiences who got hit by a similar tidal wave. When the hate-messages outnumber the actual readers, it's pretty obvious that something funny is going on -- and by "funny," I mean
automated
.
Mr. CHIGILL, I eventually discovered, was
David Axelrod
.
Obama's campaign attack dog, David Axelrod, runs a little-known company called ASK, which -- surprise, surprise -- manipulates public opinion through the creation of astroturf (fake grassroots support for a policy, company or candidate). "Persona software" was created for the purpose of astroturfing. You know damned well that a cutting-edge firm like ASK has a copy of that software.

We have discussed ASK in a previous post. One of Axelrod's campaigns involved spreading a completely false revisionist history of the California energy crisis; he did this in order to help a public utility drum up support for a rate hike.

Not only that. In previous posts, I've spoken about the fake communication I received from someone claiming to be Evelyn Pringle, the investigative reporter who did such excellent work on Obama's pattern of corruption in Illinois. I had pushed her work in these cyber-pages, and I had also corresponded with her briefly. The pseudo-Pringle message existed for the purpose of planting malware on my system, forcing me to do a thorough reformat of my C drive.

Only someone in Axelrod's shop would have cared about Pringle enough to use her name in a scheme of this sort.
So please explain to me:
By what right
does Obama now complain about the 2016 Trump campaign? Exactly how did the Trump 2016 campaign differ from the Obama 2008 campaign?
I guess there's one major difference: Trump had help from St. Petersburg. A glaze of treason makes Trump's crime look extra slimy. But we must then ask the next obvious question: Who was in charge of the United States intelligence community throughout 2016? Whose responsibility was it to reveal foreign interference in our election? Who held onto the intercepts which would have proven the crime?
I
have a right to criticize what Team Trump did in 2016, and so do
you
. But Barack Obama does not.
Permalink
Thursday, October 19, 2017
THAT condolence call. Plus: Why were those soldiers in Niger? Were they seeking "the Grail"?
(Note: The latter part of this post contains some original research into the Niger incident. I hope readers will pass it along to others.)
As you no doubt know by now, congresswoman Frederica Wilson reported that Donald Trump offered insensitive words to Myeshia Johnson, the widow of Sgt. La David T. Johnson. No-one should be surprised: Trump
never
says the right thing. It's really quite remarkable: Despite being one of the greatest con artists in history,
Donald Trump never says the right thing
.
Predictably, Trump claims that Congresswoman Wilson lied about the conversation, as did -- apparently -- all other ear-witnesses. (He was on speakerphone.) Trump yells "Liar!" at lots of people: The mainstream media, the former (Republican) director of the FBI, as well as
an entire parade of women
who accuse him of Weinstein-esque behavior, one of whom has brought suit against him. Why have so many people offered false testimony about Donald Trump? No other president has had to endure a nationwide conspiracy to break the ninth commandment.
One account of this scandal stands out for its surprising
lack
of bias, considering the source. I had expected Sputnik to offer a Trump-friendly version of these events -- but as it turns out, the Russian site
did a decent job
.

Billions and billions.
It's useful to remind ourselves of certain basics. From
Kurt Eichnewald
:
Diff tween what Trump lies he's worth ($10 bill), vs. what Forbes 400 shows hes worth $3.1B, is more than worth of bottom 330 billionaires. Seriously, what kind of billionaire is so insecure that he has to lie that he's worth more than triple his actual worth? Wait...I know...a billionaire who, if he put his inheritance stock mutual fund, would be worth $17 bill more. IOW, Trump's biz "skills" cost him $17b.
One of Eichenwald's readers adds that Paris Hilton is a better capitalist than Donald Trump. I say this in all seriousness: I'd rest a
lot
easier if Paris were the president right now.
Is "the Grail" in Niger?
Last night, Rachel Maddow opined that "condolence-gate" began as Trump's tasteless effort to divert attention away from a key question: Just
why
were those four soldiers killed in Niger?
We've been told, vaguely, that those four were part of an effort
to combat ISIS
.
U.S. officials said they believe extremists linked to the Islamic State of Iraq and Syria (ISIS) were responsible for the attack about 120 miles north of Niamey...
Odd. I can't find any previous stories indicating that ISIS had a presence in that country. (Granted, my internet searching was cursory, but still.)
Now, there are plenty of stories which speak of
Boko Haram
in Niger, but Boko Haram is not ISIS.
Niger is also home to a group called AQIM, or Al-Qaeda in the Islamic Maghreb, which uses a black flag similar to the one used by ISIS. AQIM's main goal is the creation of a militant Islamic state in Algeria; one might say that they have transplanted the basic
idea
of ISIS to another location. Nevertheless, this group has traditionally been considered an offshoot of Al Qaeda, not ISIS. Since several news stories about the Niger disaster have (vaguely) referenced an Al Qaeda tributary, I will presume (until given reason to think otherwise) that AQIM is the true name of the group we're dealing with.
Among the items acquired by AQIM are SA-7 surface-to-air missiles, which the Pentagon refers to as the SA-7 Grail.
This AP story
indicates that these missiles came from Libyan stores. For more, see
here
:
The SA-7 GRAIL (Strela-2) is a man-portable, shoulder-fired, low-altitude SAM, with a high explosive warhead and passive infrared homing guidance. The SA-7a has an effective range range from 800 m to 3.2 km and a kill zone between 15 and 1500 meters in altitude, with a speed of about 430 meters per second (Mach 1.4). The SA-7 Grail is able to destroy all aerial targets flying at low altitude such as combat helicopters, low-flying fighter aircraft and UAV.
Back in 2015, there was speculation that these missiles were used to bring down a Russian airliner flying over Egypt. (Remember that story?)
My guess is that those Special Forces operatives had intelligence indicating that "the Grail" was in Niger. Their mission, in effect, would have been to destroy the Grail.
If my guess is right, why would Trump seek to avoid talking about the details? I have a theory about that.
As the
Palmer Report
pointed out, Niger and Russia signed a military cooperation agreement not long ago; one should also keep in mind that a
Russian
airliner was attacked in 2015. Therefore, it seems possible that this entire mission was conducted at the behest of Trump's Russian friends. It may even be the case that the Russians -- not the French (as has been reported) -- helped locate the body of Sgt. Johnson.
For obvious reasons, Donald Trump would not want any reports of Russian/American cooperation to appear in the headlines.
Permalink
Tuesday, October 17, 2017
Of impeachment and rigged elections
Just a reminder: Donald Trump took an oath to faithfully execute the laws of the United States. Obamacare remains the law. Trump is not upholding it;
he has sabotaged it -- deliberately
.
This is impeachable. If the House were in the hands of the Democrats, they would need no further evidence or cause: Trump would be impeached for flouting a law and refusing to uphold his oath.
Actually, Gerry Ford had it right when he said that "an impeachable offense is whatever a majority of the House of Representatives considers it to be at a given moment in history." But a refusal to uphold the law has always been considered impeachable. From a
Chicago Tribune piece
published last February:
Interestingly, the phrase "high Crimes and Misdemeanors," which was drawn from English law, did not produce much debate; apparently the founders regarded it as a term of art. Crucially, the term "misdemeanor" did not mean a distinct set of crimes (as opposed to felony); it referred instead to bad acts, in the form of exceptionally serious public misconduct.

A "high crime and misdemeanor" could certainly be a crime, but the term could also include acts or omissions that did not amount to a violation of the criminal law. If an official simply refused to do his job for six months, there is a good argument that he would be committing a "misdemeanor." In England, it was even said that serious misconduct, as in a case of committing the nation to an ignominious treaty, was a legitimate basis for impeachment.

The upshot is both simple and clarifying: The Constitution allows impeachment of the president for large-scale abuse of the authority of his office, and also for obtaining his office by corrupt means. Intense policy disagreements and partisan squabbles are never legitimate bases for impeachment. The same is true for purely private misconduct, even if it is genuinely terrible — and for making decisions that end up being struck down in court.
From
the WP
a few days ago:
What if he won't or cannot execute his duties and/or cannot preserve, protect and defend the Constitution? The Constitution says the remedy is impeachment.

Within the past 24 hours we've seen the president threaten to ignore or violate the First Amendment and threaten a group of Americans with denial of service to which they are legally entitled.
This essay
looks into the British origins of the phrase "high crimes and misdemeanors":
The convention adopted "high crimes and misdemeanors" with little discussion. Most of the framers knew the phrase well. Since 1386, the English parliament had used "high crimes and misdemeanors" as one of the grounds to impeach officials of the crown. Officials accused of "high crimes and misdemeanors" were accused of offenses as varied as misappropriating government funds, appointing unfit subordinates, not prosecuting cases, not spending money allocated by Parliament, promoting themselves ahead of more deserving candidates, threatening a grand jury, disobeying an order from Parliament, arresting a man to keep him from running for Parliament, losing a ship by neglecting to moor it, helping "suppress petitions to the King to call a Parliament," granting warrants without cause, and bribery. Some of these charges were crimes. Others were not. The one common denominator in all these accusations was that the official had somehow abused the power of his office and was unfit to serve.
Andrew Johnson was impeached because he thumbed his nose at a law passed by Congress. The law, called the Tenure of Office Act, regulated the President's ability to fire an Executive Branch officer who had previously been approved by Congress. Johnson disputed the constitutionality of this law. In our system, constitutionality is determined by the Supreme Court; nevertheless, Johnson simply decided to ignore a piece of legislation he didn't like. Result: Impeachment.
How does Trump's unilateral decision to toss aside Obamacare differ from Johnson's unilateral decision to toss aside the Tenure of Office Act?
The hidden factor.
Impeachment is justified. So how does Trump keep getting away with it? Why isn't Trump acting like a president under threat? Why aren't the Republicans bothered by the possibility of a turnover in the House, followed by the humiliating spectacle of a presidential impeachment?
Under such circumstances, it seems baffling for Steve Bannon to threaten primaries against insufficiently radical Republicans. In other words, he demands a repeat of the Tea Party debacle, when radical right candidates like Sharron Angle and Carl Paladino insured Democratic victories. With stakes so high, why would Bannon insist on running weaker candidates less likely to prevail in general elections? Why doesn't he seem even slightly worried about losing the House, and thus losing the presidency?
There is a hidden factor at play. That hidden factor, in my opinion, comes down to these four words:
Election rigging is real
.
Since 2004, I've maintained that it is possible to rig elections. That possibility has now been established beyond rational debate: See
here
and
here
and
here
and
here
. With the Trumpists in charge of the executive branch and compliant (complicit?) Secretaries of State installed across the land, there is no way to impede the hackers from doing their worst.
Remember the scene in
Natural Born Killers
in which Mallory wistfully
asks: "Is there such a thing as a cop-less town? That would be paradise
." Behold paradise: Trumpland is a cop-less town.
And yet we continue to act as though vote rigging is a dark fantasy and a baseless conspiracy theory. I say that rigging is real, and that there is no other explanation for Bannon's boldness.
(It suddenly occurs to me: Mallory's idea of paradise is shared by many a libertarian. Hows fitting! Ayn Rand started down her path when she fell in love (from a distance) with a serial killer. She was a born Mallory.)
Permalink
A mysterious murder in Malta may have a link to Trump
On the island of Malta -- a center of offshore banking -- an extraordinary journalist was killed by a car bomb. Here's how
yesterday's Guardian
covered the story...
The journalist who led the Panama Papers investigation into corruption in Malta was killed on Monday in a car bomb near her home.

Daphne Caruana Galizia died on Monday afternoon when her car, a Peugeot 108, was destroyed by a powerful explosive device which blew the vehicle into several pieces and threw the debris into a nearby field.

A blogger whose posts often attracted more readers than the combined circulation of the country's newspapers, Caruana Galizia was recently described by the Politico website as a "one-woman WikiLeaks". Her blogs were a thorn in the side of both the establishment and underworld figures that hold sway in Europe's smallest member state.

Her most recent revelations pointed the finger at Malta's prime minister, Joseph Muscat, and two of his closest aides, connecting offshore companies linked to the three men with the sale of Maltese passports and payments from the government of Azerbaijan.
The question is: Just
which
story prompted the assassination? Two weeks before her death, she told the police that someone had
threatened
her.
Caruana was most famous for her work on the Panama Papers. Although her reporting targeted important figures in her own country, the Panama Papers scandal also revealed some of the financial skullduggery conducted by Russian oligarchs close to Putin.
There's a Trump connection to this tale. I'm not sure if that connection will prove important or tangential; further investigation seems warranted.
B, a longtime reader of this blog, sent in a long comment about the Caruana murder. I'm going to take the liberty of republishing b's words here, below the asterisks; I'll have more to say afterwards.
* * *










<









Here's an excerpt from that final post:
Former Opposition leader Simon Busuttil testified in court this morning, as did the Prime Minister's chief of staff, that crook Keith Schembri, in the case he himself brought against Dr Busuttil for libel damages.

Mr Schembri is claiming that he is not corrupt, despite moving to set up a secret company in Panama along with favourite minister Konrad Mizzi and Mr Egrant just days after Labour won the general election in 2013, sheltering it in a top-secret trust in New Zealand, then hunting round the world for a shady bank that would take them as clients.

(In the end they solved the problem by setting up a shady bank in Malta, hiding in plain sight.)

His government salary is just peanuts to him, Mr Schembri said, because he has retained his companies and his shares and that is where he makes his money. But the way he is using his government influence to benefit his private business in Malta is entirely a separate corruption/trading in influence issue and is not an argument in his defence.
It's quite possible -- perhaps likely -- that the Caruana murder has no link to any persons or scandals outside of Malta. However, her work on "shady" banks and the Panama Papers suggests that she could have been working on a larger story with international implications. Caruana didn't like Trump, didn't like the international far-right resurgence -- and she knew a great deal about Malta's ties to money laundering.
This New Yorker piece
on Trump's "foreign deals" offers an intriguing tidbit which relates to the story excerpted by b, above:
The Silk Road Group, which was established in Georgia shortly after the fall of the Soviet Union, does not have a conventional corporate structure. It is a holding company that controls dozens of corporate entities registered around the world. In total, B.T.A. loaned the Silk Road Group three hundred million dollars, and these funds were dispersed among its many subsidiaries, making the money trail hard to follow. For example, an eight-million-dollar loan was granted to Batumi Riviera Holding, B.V., which was registered in Holland. Batumi Riviera Holding has reported having a sole asset: a company called Vento, L.L.C., which is registered in Georgia. That registration indicates that its creditor is B.T.A., which made loans valued at seventy-five per cent of the initial investment in the company. Batumi Riviera Holding, in turn, is owned by Tbilisi Central Plaza, a company registered in Malta. Tbilisi Central Plaza is owned by Susalike Holding GmbH, which is registered, in Germany, to a Silk Road Group subsidiary.

Giorgi Rtskhiladze co-owns the Silk Road Transatlantic Alliance, a subsidiary that focusses on business deals involving the U.S. He brokered the Trump relationship.
Companies owning companies owning companies -- and none of them seem to be involved in the actual production of goods. Also see "The Malta connection" within
this story
.
Russian oligarchs love Malta's banks; see, for example,
this story
. A little Googling will uncover many similar examples.
Permalink
Sunday, October 15, 2017
A subpoena for Trump -- and it's NOT what we expected
Even as a zillion right-wing propagandists ramp up the campaign to link Hillary Clinton to Harvey Weinstein ("It's all
her
fault!"), we learn that a woman named Summer Zervos -- formerly a contestant on
The Apprentice
-- filed suit against Trump a few months ago, accusing him of groping her and of defaming her by calling her a liar. Moreover, she
"has subpoenaed all documents from his campaign pertaining to "any woman alleging that Donald J. Trump touched her inappropriately.""
Here is her
subpoena
. Here is her original
Complaint
.
Trump's lawyers are fighting that subpoena. This reaction tells us that not only are there other women making such claims, but that there may well be a substantial documentary record which could prove embarrassing to the president. If no responsive documents existed, there would be no need to contest the subpoena.
Trump's lawyers have sought to have the suit dismissed or at least delayed until he is out of office. His lawyers argued that he is protected from civil lawsuits in state court while in office.
Sorry. Won't wash. The Paula Jones suit established clear precedent. The Republicans who gleefully seized upon that suit as an excuse to rummage through Bill Clinton's entire sexual history cannot now complain. Anyone old enough to remember who Lucianne Goldberg or Linda Tripp were will cackle at the following:
As for the subpoena, they argued that it is "far reaching" and "seeks wholly irrelevant information intended solely to harass the president."
What gropes around, comes around. We cannot tolerate one legal standard for Clinton and a different standard for Trump.
Right now, it seems to me as though Zervos has a better case than Jones did -- and better reason to seek information about other women who may have been harassed or victimized by Donald Trump. Did he offer other women money to keep quiet? Did he hand them NDAs? Did he threaten?
(Incidentally, an NDA is void when a crime is involved. Contracts cover only
legal
activity, which is why you can't sue a hit man who doesn't kill the mark.)
Remember: Trump has
admitted in public that he is, in fact, a sexual predator
. Also remember: Somewhere in Los Angeles, there are hours of unaired video footage from Trump's
Apprentice
days -- and according to credible report, much of that footage is damning. (Larry Flynt recently offered ten million to anyone who offers information leading to Trump's impeachment. I hope that whoever has that footage understands that you can do an awful lot of redecorating for ten million bucks.)
In
Double Indemnity
, Edward G. Robinson speaks of the "little man" living in his gut who tells him
"Pay attention. This is important."
Back in 2016, my own little man immediately sensed that the "Katie Johnson" rape accusation against Trump would never amount to anything. By contrast, the moment I learned of the Summer Zervos accusation, my little man began to fidget and shake and emit electric sparks -- and when I saw that subpoena, the voice in my gut tried to out-shriek the Wilhelm scream.
Pay attention. This is important.
That's what my little man is telling me. What is
your
little man telling
you
?
Permalink
Saturday, October 14, 2017
Nukes! And a couple of fake Renoirs
A recent episode of Rachel Maddow's show included an interesting segment on Trump's statements about nuclear war. Long story short: In a couple of speeches, the president has indicated that America now possesses a nearly-foolproof missile defense system.
True, the precise meaning of his statement was a bit hard to discern, because -- as always -- he spoke with marbles in his mouth. But one got the gist. He really seems persuaded that nuclear war would be survivable for the United States.
Maddow spoke to an expert who offered a very contrary opinion. Our "shield," said this expert, is extremely porous.
Is it?
Here's the thing: If we
did
have the technology to protect us from incoming missiles, that tech would be
the
most highly-guarded of America's secrets. As long as that secret remains a secret, as long as other nations could not replicate the trick, we would have a first strike capability.
No-one "in the know" would be willing to reveal such a truth in public. There's only one exception to that rule: Donald Trump himself. As everyone knows, President Blabby has a phobic reaction to the unexpressed thought: Any idea that pops into his cranium
must
come shooting out of his mouth.
Let us speculate further. As I always say: Speculation is fine as long as it comes clearly marked as such.
Are you among those who couldn't shake the feeling that there was something awfully odd about the rapidity of the Soviet Union's decline? That's certainly how I felt at the time:
There's a hidden story here. They're keeping something important from us
.
In all the years since, the conventional explanations for the Great Red Fall never made complete sense to me. I've never discussed my unease in public before, because all I had were half-formed thoughts which never congealed into a theory. Although I didn't feel comfortable with the mainstream view of what happened, I couldn't come up with a reasonable alternative
.
Instinct told me that the grand finale of the USSR had some relationship to Reagan's Strategic Defense Initiative, a.k.a. "Star Wars." SDI was directed against space-based weapons systems. Given the enormous amount of money that went into the program, it is fair to presume that the blackest part of that budget could have been spent on...well, anything.
Did the Soviet Union break apart with such brutal rapidity because we had come up with a national missile defense system -- one that actually worked well enough to give us a first strike capability? Is it possible that such a thing could have been kept secret -- by
both
sides -- for all of these years?
Here's an odd alternative idea: What if an intricate deception operation convinced the USSR that we possessed such a system, even though we did not?
For now, let us posit that a workable missile defense system was, or
is
, real, and that this ultimate secret was kept hidden from the public until the Orange Oaf started flapping his lips. That scenario goes a long ways toward explaining why Trump seems to
desire
a nuclear exchange with North Korea.
Also: It's fair to presume that this ultra-secret tech has been transported to Putin's Russia. Learning that secret would be one of the main purposes of putting Donald Trump in office.
One thing's for certain: Even if America survives a nuclear war with North Korea with all of our cities intact, our standing in the world would decrease substantially. We'd be hated by all.
And now, let us shift from weighty speculation to silly pretension.
Renoir.
This Vanity Fair piece
reveals that Donald Trump used to keep a copy of Renoir's
Two Sisters
in a private jet. (For all I know, the work is still there.) Astoundingly, Trump insisted to biographer Tim O'Brien that the painting in his possession was
the
genuine original by Renoir, even though the actual work hangs in the Art Institute of Chicago.
Trump's belief that he owns the original may, in fact, be sincere.
Curious, O'Brien asked Trump about the painting: was it an original Renoir? Trump replied in the affirmative. It was, he said. "No, it's not Donald," O'Brien responded. But, once again, Trump protested that it was.

"Donald, it's not," O'Brien said adamantly. "I grew up in Chicago, that Renoir is called Two Sisters on the Terrace, and it's hanging on a wall at the Art Institute of Chicago." He concluded emphatically: "That's not an original."

Trump, of course, did not agree, but O'Brien dropped the conversation topic and moved on with his interview. He thought that he had heard the last of the Renoir conversation. But the next day, when they boarded the plane to head back to New York City, Trump again pointed to the painting, and as if the conversation had never happened, he pointed to the fake and proclaimed, "You know, that's an original Renoir." O'Brien, chose not to engage, and dropped the conversation.
In
a previous post
, we discussed another ersatz Renoir hanging in Trump's pad in Trump Tower, as revealed by the photo to your right. It's called both
At the Opera
and
La Loge
. The actual painting is still hanging in the Courtauld Gallery in London.
In my post, I said that a man of Trump's wealth should invest in
original
art. Buying or commissioning a copy of a Renoir (or of anything else) is beneath a man of Trump's station -- both his actual station and his pretended station. There are many living artists of high quality whose works can be purchased for reasonable prices; for example, one can pick up a fine example of Odd Nerdrum's work for around $50,000. Trump should be able to afford that, even if he is worth far less than he claims.
Of course, investing in art requires the acquisition of
taste
. In Trumpworld, that commodity is elusive.
The Vanity Fair piece increases the probability that Donald Trump tells visitors that he owns the
real
version of
At the Opera
. Anyone who knows about art would immediately be onto him: That painting is one of Renoir's most famous works.
Apparently, Trump surrounds himself with people who refuse to burst his illusions -- or who know nothing about culture.
Permalink
Friday, October 13, 2017
Responses
I don't know who wrote this -- probably
this fellow
-- but I agree with every word...
I do know who drew this cartoon, and I agree with every line...
School days.
Trump's hilariously obvious insecurity about his intelligence has many people wondering how he really managed to survive the Wharton school. Fortunately, we now have
this report
from one of his professors, William T. Kelley, who died at the age of 94 six years ago. Kelley's opinion has been relayed to us via a good friend.
Professor Kelley told me 100 times over three decades that "Donald Trump was the dumbest goddam student I ever had." I remember his emphasis and inflection — it went like this: "Donald Trump was the dumbest goddamn student I ever had." Kelley told me this after Trump had become a celebrity, but long before he was considered a political figure. Kelley often referred to Trump's arrogance when he told the story that Trump came to Wharton thinking he already knew everything.
Kelley's view seems to be shared by other University of Pennsylvanians. See thedp.com, from the Daily Pennsylvanian, stating:


Another biographer, Gwenda Blair, wrote in 2001 that Trump was admitted to Wharton on a special favor from a "friendly" admissions officer. The officer had known Trump's older brother, Freddy.

Trump's classmates doubt that the real estate mogul was an academic powerhouse.

"He was not in any kind of leadership. I certainly doubt he was the smartest guy in the class," said Steve Perelman, a 1968 Wharton classmate and a former Daily Pennsylvanian news editor.

Some classmates speculated that Trump skipped class, others that he commuted to New York on weekends. . . .

* * *

1968 Wharton graduate Louis Calomaris recalled that "Don ... was loath to really study much."

Calomaris said Trump would come to study groups unprepared and did not "seem to care about being prepared."
Now all we need is a confession from the fellow student who wrote Trump's papers.
Permalink
Wednesday, October 11, 2017
Does Trump really want a nearly "tenfold" nuke increase?
Four NBC News reporters aroused Trump's ire with a report bearing this headline:
"Trump Wanted Tenfold Increase in Nuclear Arsenal, Surprising Military."
Trump and Mattis denied the claim; moreover, Trump has threatened NBC's license --
a threat which should be neither dismissed nor minimized
-- while his followers have targeted the network with the usual Orwellian hate-campaign.
According to NBC, Trump's request for more nukes prompted Tillerson to make that infamous "moron" remark -- which Trump
also
says is fake news.
The gist of the NBC piece is substantiated by one of
Trump's own tweets
.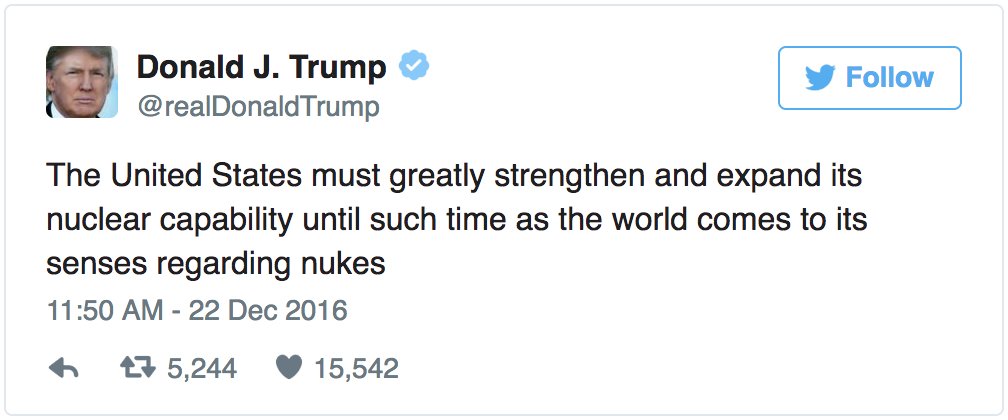 That was in December; NBC spoke of a Pentagon meeting which occurred in July. I don't think that Trump became a peacenik during the intervening months. So the only real question is whether Trump wistfully longed for a
tenfold
increase. Is the number in the headline justified by the text?
Trump's comments, the officials said, came in response to a briefing slide he was shown that charted the steady reduction of U.S. nuclear weapons since the late 1960s. Trump indicated he wanted a bigger stockpile, not the bottom position on that downward-sloping curve.
The president's comments during the Pentagon meeting in July came in response to a chart shown on the history of the U.S. and Russia's nuclear capabilities that showed America's stockpile at its peak in the late 1960s, the officials said. Some officials present said they did not take Trump's desire for more nuclear weapons to be literally instructing the military to increase the actual numbers.
According to
Wikipedia
, the number of nuclear warheads in the American arsenal reached a high of 31,139 in 1965 and had been reduced to 7260 as of 2014.
But:
They are projected to go down to 3620 by 2022.
A 3620 to 31,139 increase would justify the "nearly tenfold" remark.
Is it believable that Trump would look at a chart similar to
this one
and muse about returning to the 1965 level? In my opinion, yes. He always wants to be at the top of any given mountain.
The article makes clear that Trump did
not
give an order to that effect, a point reiterated by journalist Courtney Kube (one of the four NBC authors) in
this tweet
. Apparently, the president made an impulsive, pie-in-the-sky remark which no-one around him took very seriously.
During the campaign, Trump indicated that he could not define the term "nuclear triad." Therefore, I have no difficulty believing that Trump is also unaware of the history of nuclear arms reductions.
Incidentally, the chart reminds us that the USSR's nuclear stockpile reached its highest point not long before the fall of the Soviet Union. Standing at the top of the mountain isn't everything.
Permalink
GOP to Trump: The best defense is a good silence
Rex Tillerson allegedly referred to Trump as a "moron." Senator Bob Corker spoke of Trump as an unruly child who might ignite World War III in a fit of pique.
You know what really impresses me? The response of all the
other
GOP congressfolk. The way they have rushed to defend their president will be remembered for generations to come.
Pillory Hillary.
Trump still has loyalists, and they have decided to defend their God Emperor by beating up a woman. Specifically: They blame Hillary Clinton for the sexual sins of a movie producer named Harvey Weinstein. She
made
him do it.
During the primary battle, a BernieBot on Democratic Underground posted an instantly-notorious post blaming Hillary Clinton for
not
ending apartheid while she was the wife of the governor of Arkansas. You won't be able to find that post now because the avalanche of hilarious responses shamed the original poster into removing his inane claim. (A clever Googler can retrieve a cached version of the thread.) The non-Berniebots really got into the spirit of the occasion, blaming Hillary for the JFK assassination and failing to prevent 9/11 and not coming over to do the dishes.
Somewhere along the way, one Hillary defender pointed out that Nelson Mandela greatly admired the Clintons. In response to this news, another BernieBro sneered that Mandela was a sellout corporatist phony who played no role in ending apartheid;
true
credit for that victory should apparently go to the Messiah from Vermont. All hail Glorious Leader Bernie Sanders, savior of South Africa!
Who writes this nonsense? Are these "bros" actually Russian trolls? I can't say for certain, but I wouldn't hesitate to ask them where to find the best Shaslik in St. Petersburg.
(I presume you've already read
this important story
.)
Is your antivirus spying on you?
Fascinating piece in the NYT:
"How Israel Caught Russian Hackers Scouring the World for U.S. Secrets."
What gave the Russian hacking, detected more than two years ago, such global reach was its improvised search tool — antivirus software made by a Russian company, Kaspersky Lab, that is used by 400 million people worldwide, including by officials at some two dozen American government agencies.

The Israeli officials who had hacked into Kaspersky's own network alerted the United States to the broad Russian intrusion, which has not been previously reported, leading to a decision just last month to order Kaspersky software removed from government computers.

The Russian operation, described by multiple people who have been briefed on the matter, is known to have stolen classified documents from a National Security Agency employee who had improperly stored them on his home computer, on which Kaspersky's antivirus software was installed. What additional American secrets the Russian hackers may have gleaned from multiple agencies, by turning the Kaspersky software into a sort of Google search for sensitive information, is not yet publicly known.
The NYT won't ask the obvious question: What about the
other
vendors of anti-malware apps? Take, for example, ZoneAlarm, the popular free firewall: ZoneAlarm is made by Checkpoint, which is basically an offshoot of Israel's Unit 8200 (their version of the NSA).
One should also note that most pirated versions of expensive apps come from Russian and Chinese sources.
A few years ago, I indulged in some
mildly paranoid speculation
:
In the 1980s (according to an oft-told story), a gang lord stood accused of being involved with the cocaine trade. The government proved that cash in his possession tested positive for trace evidence of the drug. The defense countered by proving that all folding money contains trace evidence of cocaine.

Similarly, perhaps your computer has kiddie porn imagery nestled somewhere on it. Perhaps most computers do.

We all download freeware programs -- including the firewall ZoneAlarm, which is provided to you gratis by people who are at least rumored to be connected to Israeli intelligence. There are numerous other free apps out there: Video converters, music players, anti-spyware, registry utilities, so on and so-forth.

How do you know -- how can you be 100% certain -- that these apps do not place a tiny illegal image in some deeply hidden folder on your system? Perhaps the program automatically erases the illegal image seconds after placing it on your computer. The image would still be visible to a cop or federal agent doing a forensic analysis of your system.

From the standpoint of a totalitarian ruler, it would be very useful to engineer a society in which nearly everyone can (potentially) be proven in court to be a lawbreaker. Let's posit that the "Occupy Wall Street" movement whelps up an actual leader. To discredit him, the government need merely gin up an accusation of pedophilia -- and lo, the evidence will appear on his system. The forensic computer detective who examines the drive will believe that he has made a legitimate find.
Permalink
Tuesday, October 10, 2017
Take THAT
Trump's rules for patriots:
Taking a knee? Bad.
Taking the Fifth?
Good
.
Seems to me that if the Russia probe were a tissue of lies, as the Trumpers claim, then they would
cooperate
with the Senate intel committee's probe. After all, the committee is in the hands of the Republicans.
Oh, I forgot:
Globalists
.
According to the Breitbarters, anyone -- of either party -- who inconveniences Trump must be part of the Dreadful Globalist Conspiracy. I recently heard Steve Bannon describe Bob Corker (a Republican Trump critic) as a tool of the "Globalist clique."
You know who the Globalists are, don't you? They own all the banks and they run Hollywood and they wear their little Globalist hats and they eat at Globalist delis (except on Christmas when they go for Chinese food) and they tell jokes about their Globalist mothers. But they're not not NOT Jews --
never
say that they are Jews. They're
Globalists
. You must never accuse Bannon and the Breitbarters of being anti-Semitic, because doing so would be very, very wrong.
Another example of hypocrisy.
From Josh Marshall...
Surreal to see Weinstein rightly & universally condemned & abandoned while Prez just as plausibly/publicly accused of all the same bad acts.
Remember when Trump said that he was going to sue
the many, many women who have accused Trump of sexual assault?
Remember? Was there a single lawsuit against anyone?
Permalink
THAT meeting: The truth is seeping out...
Via
Bill Browder
, we learn that the meeting between DJT Jr. and that Russian lawyer (plus Manafort and a few spooky worthies) was all about repealing Magnitsky. Not "adoptions."
Here's the actual print-out
: I believe that the key phrase concerns the Foreign Relations Committee.
Note the reference to an NDA. We've been told that the NDAs issued by Havey Weinstein are just awful -- and yet, for some reason, NDAs are perfectly fine when used by Trump or his Russian pals. Why is that, I wonder?
Think Green.
A tweet from reporter Alec MacGillis:
Your occasional reminder that Green Party got nearly 2X more votes in deciding states of MI, WI and PA than Trump's cumulative margin there.
His reminder was occasioned by
this AP headline
...
BREAKING: EPA Administrator Pruitt says administration will withdraw from Obama-era clean power plan to slow global warming.
MacGillis' reminder evinced an infuriating exchange with a Green named Ben Speilberg.
Maybe, if Democrats pursued a real strategy of environmentalism, voters would feel more compelled to vote for them.
MacGillis:
Hmm, supporting the Paris accords and implementing the Clean Power Plan seem like a "strategy of environmentalism," but then what do I know.
Mr. Green-genes:
Maybe those things & other Obama-era actions fall woefully short if you are concerned about climate change & other environmental issues.
I've always hated "progressive purists" of this sort. Just before the election,
Spielberg wrote a piece for HuffPo calling Clinton supporters "privileged"
and intimating that they were mostly conservative white males. He also said that he personally had little to lose from a Trump presidency.
Secretly, or not so secretly, assholes like Spielberg
want
Trump to win. They will never admit it -- they will deny the truth to their last breath -- but deep down, they
want
the planet to die. They long to flash an ultra-smug smirk at the Apocalypse: "At least we managed to stop those awful, awful Clintons. We prevented the vile Democrats from actually
doing
anything. We, the FIRST TRULY MORAL GENERATION IN ALL OF HUMAN HISTORY, have done our sacred duty."
If Petra Kelly were alive, what would she say about this Spielberg fellow? In case you don't know, Kelly -- founder of the German Green party (the
original
Green party) -- was a huge fan of Adlai Stevenson, who probably stood somewhere to Hillary's right. As devoted as Petra Kelly was to non-violence, she was also human. I suspect that -- for a few seconds at least -- she'd try to imagine what Mr. Speilberg's smile would look like if someone did a little dental work on him with a tire iron.
Permalink